Friday, August 31, 2018 at 4:30pm to 6:30pm
ENJOY
a Picnic with Entertainment
Friday, 4:30 – 6:30 p.m.
NEW LOCATION! Buys Athletic Field – 11th Street & Fairbanks Avenue
• Picnic includes: pork carnitas, hamburgers, hot dogs, chicken tamales,
vegetarian enchiladas and black bean burgers.
• Enjoy music by the Holland American Legion Band.
DISFRUTA
de un Picnic con Entretenimiento
Viernes, 4:30 – 6:30 p.m.
NUEVA UBICACION! Buys Athletic Field de Hope College, entre la
calle 11 y la Avenida Fairbanks
• El picnic incluye: carnitas de puerco, hamburguesas, perros calientes,
tamales de pollo, enchiladas vegetarianas y hamburguesas de frijol
negro
• Disfruta la música de La Banda de la Legión Americana de Holland
EXPLORE

Holland and Windmill Island Gardens
Friday and Saturday, 9:30 a.m. – 5 p.m
1 Lincoln Avenue, north of 7th Street
• Bring your ticket to Windmill Island Gardens for free admission on
both Friday and Saturday.
• Enjoy De Zwaan, the 257-year-old Dutch windmill; explore 36 acres of
gardens, dikes, and canals; visit the Posthouse museum.
• Children will enjoy the playground, Children's Gardens, and the Antique Carousel.
EXPLORA
Holland y los Jardines de Windmill Island
Viernes y Sábado, 9:30 a.m. – 5 p.m.
1 Avenida Lincoln, norte de calle 7
• Presenta tu boleto para entrar gratis a los Jardines de Windmill
Island el Viernes y Sábado.
• Disfruta De Zwaan, el molino holandés de 257 años; explora 36
acres de jardines, diques, y canales; visita el museo Posthouse.
• Los niños disfrutarán los juegos, los Jardines para Niños, y el Carrusel Antiguo.
SUPPORT

Hope College Men's Soccer
Friday, 5 p.m.
Saturday, 7 p.m.
Van Andel Soccer Stadium, 11th Street and Fairbanks Avenue
Support the men's soccer team while they host Manchester University
of Manchester, Indiana on Friday and Stockton University of Galloway,
New Jersey on Saturday.
Admission to both games is free with your picnic ticket.

APOYA
Fútbol Masculino de Hope College
Viernes, 5 p.m.
Sábado, 7 p.m.
En el Estadio Van Andel Entre la Calle 11 y la Avendia Fairbanks
Apoya al equipo de Fútbol Masculino de Hope College que juega contra
Manchester University de Manchester, Indiana el Viernes y Stockton
University de Galloway, New Jersey el Sábado.
La entrada para los dos juegos es gratis con tu boleto.
CHEER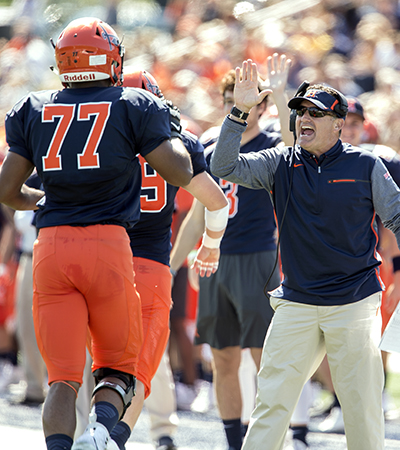 Hope College Football
Friday, 7 p.m.
Ray and Sue Smith Stadium, 16th Street and Fairbanks Avenue
Cheer on the Flying Dutchmen as they host Millikin University, Illinois.
Admission to the game is free with your picnic ticket.
APOYA
Fútbol Americano de Hope College
Viernes, 7 p.m.
Estadio de Ray & Sue Smith entre la Calle 16 y la Avenida Fairbanks
Tambien apoya al equipo de Fútbol Americano de Hope College que
juega contra Millikin University, Illinois a las 7 p.m.
La entrada para el juego de fútbol Americano es gratis con tu boleto.
MEET HOPE COACHES
DAVE BRANDT, Head Coach, Men's Soccer
Dave Brandt brings his championship pedigree to Hope College after successful stops at Division III Messiah College (Pa.), and the Division I United States Naval Academy (Md.). He won six NCAA Division III national championships in 12 seasons at Messiah and guided Navyto its first postseason win in 41 years. Brandt begins his tenure as Hope's ninth head coach with two home games during Labor Day weekend.

Dave Brandt trae su pedigrí de campeonato a Hope College después de sus éxitos en Messiah College (Pa.) de División III, y en la Academia Naval de los Estados Unidos de Division I. Brandt ganó seis campeonatos nacionales en la División III de la NCAA durante sus doce temporadas en Messiah, y guió a la Armada a su primera victoria de postemporada en 41 años. Brandt empieza la temporada como el noveno entrenador de Hope con dos partidos en casa durante el fin de semana del Día de Trabajo.

PETER STUURSMA, Head Coach, Men's Football
Peter Stuursma heads into his third season as head coach after guiding the Flying Dutchmen to a 7-3 overall record in 2016 and an 8-2 record in 2017. Last season was the ninth time the Flying Dutchmen won at least eight games in a season. Stuursma previously served as head football coach at East Grand Rapids High School, where he led his teams to seven Michigan state football championships.

Peter Stuursma entra a su tercera temporada como entrenador después de haber guiado a los Flying Dutchmen a un registro de 7-3 por la temporada del 2016 y un registro de 8-2 durante la temporada del 2017. La última temporada fue la novena vez que los Flying Dutchmen ganaron al menos ocho juegos durante una temporada. Anteriormente Stuursma sirvió como entrenador de la Preparatoria East Grand Rapids, donde llevo a sus equipos a siete campeonatos de fútbol
americano del Estado de Michigan.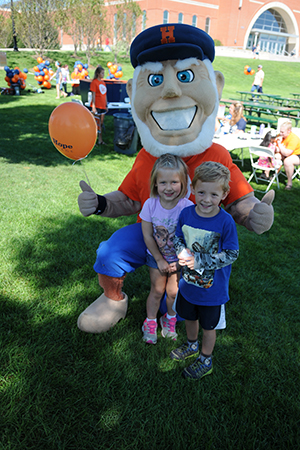 TICKET INFORMATION
Community Day tickets include admission to the picnic, Windmill Island Gardens, and men's soccer and football games on Friday, August 31. The ticket will also provide admission to Windmill Island Gardens and the men's
soccer game on Saturday, September 1.
$10 adults
$6 children 5-11
FREE children
under 5
Entrada para el día de la comunidad incluye la admisión a el dia de campo (picnic), los Jardines de Windmill Island, y los juegos de Fútbol Masculino y fútbol Americano.
Tu boleto tambien incluye admisión a los Jardines de Windmill Island y el juego de fútbol Masculino el Sábado 1 de Septiembre.
$10 adultos
$6 niños de 5 a 11 años
GRATIS niños menores
de 5 años
Tickets are on sale:
Monday – Friday, 9 a.m. – 5 p.m.
Hope College Ticket Office
100 East 8th Street – Main Level
To order tickets by telephone, call 616.395.7890.
Tickets will also be sold at the picnic location at
Buys Athletic Field, beginning at 4 p.m.
Rain location is DeVos Fieldhouse, 222 Fairbanks Avenue
For more information call 616.395.7860 or visit
hope.edu/communityday.
Boletos están a la venta:
Lunes – Viernes 9 a.m. – 5 p.m.
En la Oficina de boletos de la universidad de Hope
100 E. 8th Street – Nivel Principal
Los boletos se pueden pedir llamando a 616.395.7890.
Boletos para entrar tambien se pueden comprar en
Buys Athletic Field empezando a las 4 p.m.
Ubicación en caso de lluvia es DeVos Fieldhouse,
222 Avenida Fairbanks
Para obtener más información, por favor llame
616.395.7860 o visite hope.edu/communityday.