ENJOY A PICNIC WITH ENTERTAINMENT
SATURDAY, 11 A.M. – 2 P.M.
Due to the ground conditions at the outdoor venue, the 54th annual Hope-Holland Community Day picnic on Saturday, Sept. 14, will be held inside in the DeVos Fieldhouse on the Hope College campus.
Sponsored by Old National Bank.
Picnic includes: hamburgers, hot dogs, black bean burgers, vegetarian baked beans, macaroni and cheese, vegetable tray with dip, fruit salad, kettle chips, and deluxe nacho station.
Enjoy music by: Holland American Legion Band, 11 a.m. – 12:30 p.m. and Karizma Band, 12:30 – 2 p.m.
DISFRUTA UN DIA DE CAMPO CON ENTRETENIMIENTO
SÁBADO, 11 A.M. – 2 P.M. LOS JARDINES DE DEVOS FIELDHOUSE
Este año, el Día de la Comunidad está patrocinado por Old National Bank
El dia de campo incluye: hamburguesas, perros calientes, hamburguesas de frijol negro, frijoles al horno vegetarianos, macarrones con queso, vegetales con dip, ensalada de fruta, papas fritas, y una estación de nachos de lujo.
Disfruta la música de: la Banda de la Legión Americana de Holland, 11 a.m. – 12:30 p.m. y Banda Karizma, 12:30 – 2 p.m.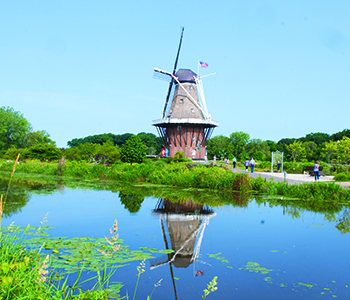 EXPLORE WINDMILL ISLAND GARDENS
SATURDAY, 9:30 A.M. – 5 P.M. 1 LINCOLN AVENUE
Bring your ticket to Windmill Island Gardens for free admission on Saturday.
Enjoy De Zwaan, the 258-year-old Dutch windmill; explore 36 acres of gardens, dikes, and canals; visit the Posthouse museum.
Children will enjoy the playground, Children's Gardens, and the antique carousel.
EXPLORA LOS JARDINES DE WINDMILL ISLAND
SÁBADO, 9:30 A.M. – 5 P.M. 1 AVENIDA LINCOLN
Presenta tu boleto para entrar gratis a los Jardines de Windmill Island el Sábado.
Disfruta De Zwaan, el molino holandés de 258 años; explora 36 acres de jardines, diques, y canales; visita el museo Posthouse.
Los niños pueden disfrutarán el patio de recreo, los Jardines para Niños, y el carrusel antiguo.
CHEER HOPE COLLEGE FOOTBALL
SATURDAY, 1:30 P.M. RAY AND SUE SMITH STADIUM – 16TH STREET AND FAIRBANKS AVENUE
Cheer on the Flying Dutchmen as they host Defiance College of Ohio.
Admission to the game is free with your picnic ticket. The Holland High School Band will perform at halftime.
APOYA FÚTBOL AMERICANO DE HOPE COLLEGE
SÁBADO, 1:30 P.M. ESTADIO DE RAY & SUE SMITH – ENTRE LA CALLE 16 Y LA AVENIDA FAIRBANKS
También apoya al equipo de fútbol Americano de Hope College que juega contra Defiance College de Ohio a las 1:30 p.m.
La entrada para el juego de fútbol Americano es gratis con tu boleto. La banda de Holland High School tocará durante medio tiempo.
SUPPORT HOPE COLLEGE MEN'S SOCCER
SATURDAY, 7 P.M. VAN ANDEL SOCCER STADIUM – 11TH STREET AND FAIRBANKS AVENUE
Support the men's soccer team while they host Heidelberg University of Ohio.
Admission to the game is free with your picnic ticket.
APOYA EL FÚTBOL MASCULINO DE HOPE COLLEGE
SÁBADO, 7 P.M. EN EL ESTADIO VAN ANDEL ENTRE LA CALLE 11 Y LA AVENDIA FAIRBANKS
Apoya al equipo de fútbol masculino de Hope College que juega contra Heidelberg University de Ohio el Sábado.
La entrada para el juego es gratis con tu boleto para el dia de campo.
MEET HOPE'S PRESIDENT
SATURDAY, 11 A.M. – 12:45 P.M. WINDMILL ISLAND, 1 LINCOLN AVENUE
Matthew A. Scogin '02 is the 14th president of Hope College. He assumed office on July 1, 2019. Previously, President Scogin served as chief administrative officer at the global financial advisory firm of Perella Weinberg Partners in New York City and has also held senior positions with both the New York Stock Exchange and U.S. Treasury Department. He majored in political science and economics at Hope, and has a master's degree in public policy from the Kennedy School of Government at Harvard University.
CONOCE AL NUEVO PRESIDENTE DE HOPE
Matthew A. Scogin '02 es el 14° presidente de Hope College. Asumió el cargo el 1 de Julio de 2019. Previamente, Presidente Scogin sirvió como oficial administrativo y jefe en la firma global de asesoría financiera de Perella Weinberg Partners en Nueva York, y también ocupó posiciones de alto nivel con la Bolsa de Nueva York y el Departamento del Tesoro de los Estados Unidos. Se especializó en ciencia política y ciencias económicas en Hope, y obtuvo una maestría en política pública en Kennedy School of Government de Harvard University.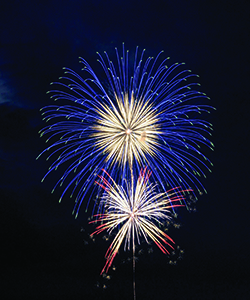 FIREWORKS
Enjoy a grand-finale fireworks show following the men's soccer game! From Van Andel Soccer Stadium, take in the culmination of the weekend celebration.
¡Disfruta de un gran espectáculo de fuegos artificiales después del juego de fútbol masculino! Desde el estadio de fútbol Van Andel aprovecha la culminación de la celebración del fin de semana.
TICKET INFORMATION
INFORMACIÓN DE ENTRADA
Community Day tickets include admission to the picnic at DeVos Fieldhouse, Hope College football and men's soccer game, and the fireworks show.
La entrada para el Día de la Comunidad incluye admisión al dia de campo, los jardines de DeVos Fieldhouse, los juegos de fútbol Americano y fútbol masculino, el espectáculo de fuegos artificiales.
$10 adults – $10 adultos
$6 children 5-11 – $6 niños de 5 a 11 años
FREE children under 5 – GRATIS niños menores de 5 años
TICKETS ARE ON SALE:
Monday – Friday, 9 a.m. – 5 p.m. Hope College Ticket Office
100 East 8th Street – Main Level
To order tickets by telephone, call 616.395.7890.
Tickets will also be sold that morning at the picnic location at DeVos Fieldhouse beginning at 10 a.m.
Rain location is DeVos Fieldhouse, 222 Fairbanks Avenue.
For more information, call 616.395.7860.
BOLETOS ESTÁN A LA VENTA:
Lunes – Viernes 9 a.m. – 5 p.m.
En la Oficina de boletos de Hope College 100 East 8th Street – Nivel Principal
Los boletos se pueden pedir llamando a 616.395.7890.
Boletos para entrar se pueden comprar el Sábado, 14 de septiembre en los jardines de Windmill Island.
Ubicación en caso de lluvia es DeVos Fieldhouse, 222 Avenida Fairbanks.
Para obtener más información, por favor llame 616.395.7860, o visite hope.edu/communityday.