The Summit will feature performances, clinics, jam sessions, masterclasses, hands on demonstrations, and the ever-important hang time! All this on the beautiful shores of lake Michigan in downtown Holland. Don't miss this spectacular event! Sign up early and tell your friends.
In conjunction with the Hope College Great Performance Series and the Jerry and Jacquie Hurtgen Jazz Studies Endowment, Big E's at the Marriott and New Holland Brewery
Dr. Lonnie Smith Trio - featuring Jonathan Kreisberg and Xavier Breaker
Gerard Gibbs and ORGANized Crime - featuring Perry Hughes and Gene Dunlap
The Tony Monaco Trio - featuring Derek DiCenzo and Jeff Shoup
Lonnie Smith the Organ Doctor
$125 - all-inclusive (VIP) pass to clinics and performances and invitation to opening night artist reception
$95 - all-inclusive pass to clinics and performances
$35 - all-inclusive Student pass to clinics and performances's
Schedule
Friday, March 9
1:00 - 3:00 PM Registration for Attendees @ The JACK
3:00 – 5:00 PM Clinic with Dr. Lonnie Smith Trio @ Concert Hall
5:30 - 7:00 PM VIP and Artist Reception for Attendees @ Big E's
7:30 PM Opening Concert, Dr. Lonnie Smith Trio @ Concert Hall
9:00 PM Concert and Jam Session, Tony Monaco Trio @ Big E's
Saturday, March 10
9:00 - 10:20 AM Clinic with Gerrard Gibbs and ORGANized Crime @ Recital Hall
10:30 - 11:50 AM Workshop with Lonnie Smith @ Recital Hall
The Fix Is In: The Organ Doctor Answers All Your Questions.
12:00 – 1:30 PM Lunch - On Your Own
1:30 – 2:50 PM Workshop with Tony Monaco @ Recital Hall
3:00 – 5:00 PM The Summit! Tony Monaco and Gerard Gibbs @ Concert Hall -Attendees can perform with and be coached by the Tony Monaco and Gerard Gibbs (All Instruments Welcome)
5:15 PM for VIP Sound Check Gerrard Gibbs and ORGANized Crime @ Recital Hall
6:00 PM Dinner - On Your Own
7:30 PM Concert with Gerrard Gibbs and ORGANized Crime @ Recital Hall
9:00 PM Concert and Jam Session with Tony Monaco Trio @ Big E's
Sunday, March 11
11:00 AM Jazz Organ Brunch with Hope Organ Trio @ New Holland Brewery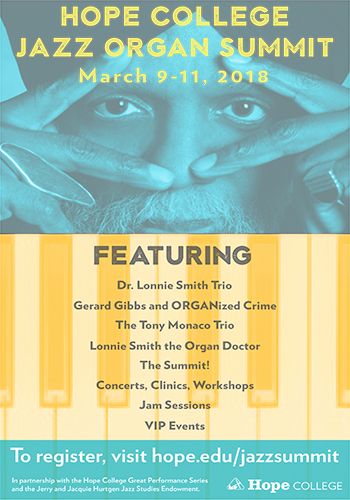 Housing
All hotels are within 3 blocks of the Jazz Organ Summit
The Haworth Inn & Conference Center
225 College Avenue
Holland, MI 49423
800-903- 9142
(616)395-7200
CityFlatsHotel-Holland
East 7th Street
Holland, MI 49423
616.796.2100
Courtyard Holland Downtown
121 E 8th St
Holland, MI 49423
(616) 582-8500
Dr. Lonnie Smith
Dr. Lonnie Smith is an unparalleled musician, composer, performer and recording artist. An authentic master and guru of the Hammond B-3 organ for over five decades, he has been featured on over seventy albums, and has recorded and performed with a virtual "Who's Who" of the greatest jazz, blues and R&B giants in the industry. Consequently, he has often been hailed as a "Legend," a "Living Musical Icon," and as the most creative jazz organist by a slew of music publications. Jazz Times magazine describes him as "a riddle wrapped in an enigma wrapped in a turban!" Always ahead of the curve, it is no surprise Dr. Smith's fan-base is truly worldwide.
Born in Buffalo, New York, Lonnie was blessed with the gift of music. Through his mother, he was immersed in gospel, blues and jazz at an early age. In his teens, he sang in several vocal groups including his own–the Supremes–formed long before Motown's eventual iconic act of the same name. Lonnie also played trumpet and other instruments at school and was a featured soloist. In the late '50s– with the encouragement of Art Kubera, who owned a local music store that he would visit daily–young Lonnie was given the opportunity to learn how to play a Hammond organ. By completely immersing himself in the records of organists such as Wild Bill Davis, Bill Doggett and Jimmy Smith, as well as paying rapt attention to the church organ, a young Lonnie began to find his musical voice. "Even though I didn't know how, I was able to play right from the beginning," Dr. Smith reflects. "I learned how to work the stops and that was it. It's a passion for me, so everything else came naturally." Because of Mr. Kubera's kindness, Dr. Lonnie often refers to Art as his "angel."
The Doctor's first gigs were at Buffalo's hottest jazz club, the Pine Grill, where he rapidly garnered the attention of folks like Jack McDuff, Lou Donaldson, George Benson and the booking agent Jimmy Boyd. George Benson was looking for an organist for his quartet and enlisted Lonnie. The group soon relocated to New York City, where they quickly established a reputation as innovators in Harlem clubs and throughout the area. After appearing on several Benson albums, Lonnie went on to make his first recording as a leader—Finger Lickin' Good–for Columbia Records in 1966. Shortly thereafter, Smith was scooped up to record by saxophonist Lou Donaldson, for whom Lonnie would appear on several epic Blue Note LPs, including the million-seller, Alligator Boogaloo. Blue Note clearly liked what they heard and inked the organist to his own recording contract, a deal which would produce the soul jazz classicsThink!, Turning Point, Move Your Hand, Drives and Live at Club Mozambique (released many years later).
Since leaving the Blue Note stable in the '70s, Dr. Smith has recorded for a slew of record labels, including Kudu, Groove Merchant, T.K., Scufflin', Criss Cross and Palmetto, ascending the charts many times. His unpredictable, insatiable musical taste illustrates that no genre is safe, as Lonnie has recorded everything from covers of the Beatles, the Stylistics and the Eurythmics, to tribute albums of Jimi Hendrix, John Coltrane and Beck–all by employing ensembles ranging from a trio to a fifteen-piece big band. Moreover, many of Doc's recent compositions reflect dramatic ethereal qualities and orchestration that elicit movie scores or soundtracks.
Dr. Smith has been amused to find himself sampled in rap, dance and house grooves while being credited as a forefather of acid jazz. When questioned about his consistent interest in music some consider outside the jazz "mainstream," Lonnie shrugs. "Jazz is American Classical," he proclaims. "And this music is a reflection of what's happening at the time… The organ is like the sunlight, rain and thunder…it's all the worldly sounds to me!"
In 2012, Dr. Smith launched his own record label Pilgrimage Inc., and in 2015, resigned with the iconic Blue Note Records label. Dr. Lonnie Smith's latest CD has been released on Blue Note. (2016)
Many awards have followed since 1969, when Downbeat magazine named Dr. Lonnie Smith "Top Organist" of the year. 2003-2014 he was awarded "Organist/Keyboardist of the Year" by the Jazz Journalist Association. The Buffalo Music Hall of Fame and Jazz Organ Fellowship have also inducted Dr. Lonnie, and in 2015 he received the Village Music Legends Award. He is scheduled to receive the NEA Jazz Masters Award, the highest honor in jazz, on April 3, 2017.
Gerard Gibbs, born November 16th 1967, has been a lover of Jazz ever since his father introduced him at the tender age of three to the music of the late Jazz organist, Richard "Groove" Holmes. At age seven, when he later had the opportunity to meet Holmes, Gerard grew to idolize Holmes. He knew then that one day, he would play Jazz just like his idol.

Gerard Gibbs, born and raised in Detroit, Michigan, is a product of the Detroit Public Schools. He began his musical training in classical Piano at the age of nine. Although he took to this musical style fairly quickly, his interest in performing Jazz never waned. In the summer of 1981, while recovering at home from corrective leg surgery, Gerard received a surprise visit from "Groove" Holmes. Holmes took an immediate interest in Gerard and began to show him all the "tricks of the trade." Until Holmes' death in 1991, Gerard had the kind of friendship and mentoring relationship with this international jazz organist that others can only dream about.
In 1996, Gerard was again fortunate. He met another jazz organist, Jimmy Smith. He was introduced to Smith while attending his concert at the Bluebird Inn in Detroit. Smith took a liking to Gerard as well, and began to show his some of his techniques. Since that time Gerard's friendship with Jimmy Smith has proven to be of great value. Gerard also has had opportunities to rub shoulders with jazz organists Joey DeFrancesco, Jimmy McGriff, and the late Jack McDuff. In September of 1999, Gerard had the opportunity to jam with the "Mighty Burner", the late Charles Earland. All of these encounters have contributed to Gerard's development as a versatile musical artist skilled beyond his years.
Currently, Gerard performs nationally on the concert circuit with saxmen Marion Meadows, Ronnie Laws and James Carter. He also lends his talents to the hot contemporary jazz group: Pieces Of a Dream. While at home in Detroit, Gibbs remains busy as he works as an Architectural Engineer for the City of Detroit by day and leads two jazz bands at night and on weekends. He plays keyboards in his contemporary jazz group, RYZ (pronounced "Rise") and organ for Gerard Gibbs & ORGANized Crime. Gerard recently completed his debut CD with his organ trio in commemoration to his first mentor, the late Richard "Groove" Holmes.
Tony Monaco may be the best organ player you have yet to hear of flying stealth while playing arguably some of the hottest B-3 around. Mentored by the legendary Jimmy Smith in what is considered the more classic style, Monaco does not swing, smolder or smoke. "Tony Monaco burns is most fitting!" CriticalJazz Review 2012. Tony Monaco began his keyboard life at age eight. An enthusiastic student, Tony began working in Jazz clubs as a teenager in his native Columbus, Ohio, guided by local organ gurus Hank Marr and Don Patterson. Four years later, Jimmy Smith invited Tony to come play at his club in California, a peak lifetime experience for Tony. In April 2000, Tony met fellow jazz organist Joey DeFrancesco, who offered to produce a debut CD for him. This collaboration resulted in the critically acclaimed "Burnin Grooves". The international success of the recording served as the catalyst for regional and national tours. Tony has since released 8 International releases and toured around the globe many times.
Twitter: @b3monaco
Facebook: https://www.facebook.com/tony.monaco.399/
Tony Monaco: Hammond B3 Organ
Harvey Mason: Drums
Chuck Loeb: Guitar
Lonnie Smith
Lonnie Smith was born in Neubrucke, Germany and started playing the organ at the age of five. Raised in the family music business, the Smith Music Center (SMC) has been in existence for 50 years. With over 12,000 square feet of space, the SMC has an extensive service area and woodworking shop. Lonnie attended Ball State University in Muncie, IN where he received a degree in electronics. As a respected and in-demand technician, Lonnie has worked on and repaired nearly every major brand of organs, keyboards, and sound systems.
Along with his passion for Jazz music, Lonnie is an avid marathon runner - having finished a marathon in each of the 50 states. He has run the Boston Marathon five time and has completed over a 100 marathons to-date. An active member of the Musical Instrument Technician Association(MITA), Lonnie travels throughout the country leading seminars/courses and training other professional technicians in the repair and refurbishment of vintage Hammond Organ and Leslie Speaker technologies.
Not long before his passing, both Lonnie and Tony Monaco had the very special opportunity to meet and visit with Don Leslie - the inventor of the Leslie Speaker. The knowledge gained at this meeting affords Lonnie invaluable insights into the Leslie technology. To this day, Lonnie remains friends with Don's sons.

The Hope College Faculty Jazz Group featuring Tony Monaco
The Hope College Faculty Jazz Group performs a broad range of musical styles. Specializing in putting a fresh spin on the classic jazz repertoire, the group also composes and performs creative original music. Individually they are extremely active performing artists, but when they come together the result is always exciting --- and never predictable.
The group represents the broad range of musical styles that students are exposed to in their studies at Hope College. As busy recording and performing artists themselves, they bring real-world experience and their own passion for music to the classroom. The Hope College Faculty Jazz Group has performed with some of the biggest names in jazz; including Clark Terry, Fred Hersch, Rick Margitza, Claudio Roditti, Phil Woods, Jimmy Bruno, Jack Wilkins, Tony Monaco, Mark Elf, Clay Jenkins, Kim Richmond, Gene Bertoncini, and Walt Weiskopf, just to name a few.