Great Performance Series: Mucca Pazza
Friday, November 17, 2017 at 7:30pm
Knickerbocker Theatre 86 East 8th Street, Holland, MI 49423-3504
Deemed "crazy, fun and eccentric" by WNYC and praised for its frenetic visual presence, asynchronous absurdity and geeky freak-outs, Mucca Pazza continues performing everything from movements of Igor Stravinsky to Ennio Morricone themes to funk-rock. Truly a band that is hard to describe but fun to see, Mucca Pazza has performed at numerous national music festivals including Lollapalooza, Lincoln Center's Out of Doors and the Montreal Jazz Fest.
This mostly-motley (but super-friendly!) crew take their liberties in best DIY style, mixing and matching the brass and reeds and percussive with classical strings, mandolin, accordion and electric guitar; doing the same with whatever scraps, hats and uniforms they have left over from school, and topping their onslaught with a brace of free-thinking cheerleaders. Their music is drawn from life as we know it today, an inclusive brew of Stravinsky to Morricone to band-camp funk-rock, concocted with a hip-pocket primer of Balkan folk brass and the wacky persistence of golden-age television memory. But this is no mere braniac chamber-exotica outfit. Music to Mucca Pazza is about moving and playing at the same time. Your experience of Mucca Pazza will be about moving and hearing at the same time. They are a physical force for good, orchestrating fun, providing wholesome, all-American non-verbal excitement while fusing highbrow and lowbrow into a raised monobrow that conveys joy in the contemporary cultural milieu.
Subscribe

Event Type

Website
Summary

Mucca Pazza continues to build its reputation for its unique and spontaneous music-making, and will bring its energetic genre-blend live to the Knickerbocker Theatre on Friday, Nov. 17.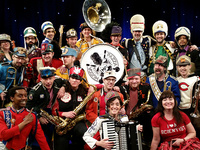 Twitter Hashtag