Thursday, November 11 at 7:00pm
Virtual Event
Hope College's Jack Ridl Visiting Writers Series will present a reading and question-and-answer session with Ron Austin and Anjoli Roy on Thursday, Nov. 11, at 7 p.m. via Zoom.
The link is available through the event's listing on the college's online calendar at hope.edu/calendar and participation is free. There will be no in-person audience.
Ron A. Austin's short stories have been placed in Boulevard, Pleiades, Story Quarterly, Ninth Letter, Black Warrior Review, and other journals.
"Avery Colt Is a Snake, a Thief, a Liar," his first collection of linked stories, has received several honors including: The 2017 Nilsen Prize, a 2019 Foreward INDIES GOLD Award, a 2020 Devil's Kitchen Reading Award, a 2020 PEN/Robert W. Bingham Prize nomination, and a 2020 Hurston/Wright Legacy Award nomination.
Austin's work has been supported by grants from the Regional Arts Commission, including a 2016 Artist Fellowship.
Anjoli Roy is a creative writer and high school English teacher in Honolulu. She has a BA in individualized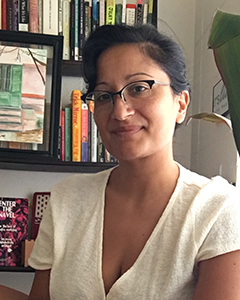 study from NYU and an MA and PhD in English from the University of Hawai'i at Mānoa. She is also a VONA/Voices of Our Nation Arts Foundation fellow and a two-time nominee for a Pushcart Prize and Best of the Net, respectively.
She is the author of the chapbook, "Enter the Navel: For the Love of Creative Nonfiction" (The Operating System, 2020).
Her currently unpublished book-length manuscript of creative nonfiction has been a finalist for the 2040 Books James Alan McPherson Award and the Autumn House Nonfiction Contest and was shortlisted for C&R Book's Awards for CNF/Memoir.
Roy's standalone creative nonfiction stories have won the COG Page-to-Screen Award along with third place in the Ian MacMillan Writing Awards for Creative Nonfiction. They have also been long-listed for the Disquiet Literary Contest, a finalist for The Writer magazine's Essay Contest, first runner-up for StoryQuarterly's Fourth Annual Nonfiction Prize, and runner-up for the Blue Earth Review's Flash Creative Nonfiction Contest.
She has published with Anomaly, The Asian American Literary Review, Blue Earth Review, Creative Nonfiction's Sunday Short Reads, Entropy, Hippocampus, Longreads, River Teeth, and others.
Roy is PhDJ for "It's Lit," a literature and music podcast that she cohosts with Jocelyn Kapumealani Ng and has featured more than 100 writers to date.
More information about the series can be found online at hope.edu/jrvws