Saturday, January 26, 2019
Registration has closed and lunch is sold out but if you would like to attend a seminar please feel free to come on Saturday. There will be plenty of seats.
This event is open to the general public and is sponsored by Public Affairs and Marketing.
Admission to the seminars is free. For additional information please contact: Lynne Powe (616) 395-7860 or powe@hope.edu
9:00 a.m. - 9:30 a.m.
Registration: Haworth Inn and Conference Center, 225 College Ave.
All seminars will be held at the Haworth Inn and Conference Center
9:30 a.m. - 10:45 a.m.
New Ways to Love a Tree - Dr. Kathy Winnett-Murray and Dr. K. Greg Murray
Ballrooms 1 and 2, Haworth Inn and Conference Center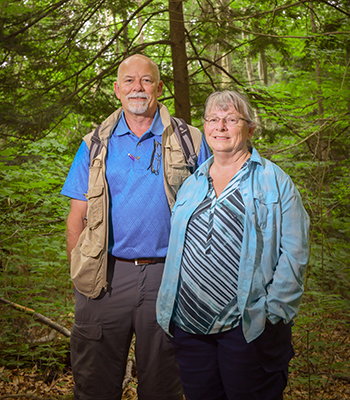 It may be the dead of winter, but the tree outside your window is very much alive, providing you with ecological, economic and health benefits that most folks take for granted. All while "just standing there." During the summer of 2018, the Murrays and an eclectic group of tree-lovers — biology student Katelyn DeWitt, Hope's sustainability coordinator Michelle Gibbs, partners from the City of Holland, and computer science professor Mike Jipping and his app-savvy students — found new ways to love trees. They'll share the story of what they invented and how they hope it will promote the value of trees to the communities of Holland and Hope College. It's a story about the benefits of trees now and in the future.
Drs. Greg Murray and Kathy Winnett-Murray, professors of biology, have been studying trees (and the things that live in them and near them) since they came to Hope in 1986. As ecologists, they love exploring interactions among creatures in all sorts of environments. Hope students often join them in their research, particularly in Hope's splendidly forested dune forest preserve, and in Costa Rica, where Greg has studied forest dynamics for 37 years. Greg and Kathy have also led May Terms in Ecuador, the Galapagos, the Sonoran Desert and Tanzania.

Boys' Literate Lives: Why Do They Read Less and Less Well Than Girls? - Dr. Deborah Vriend Van Duinen
Donnelly Dining Room, Haworth Inn and Conference Center
National Assessment of Educational Progress data suggests that boys have scored significantly lower than girls in reading at all grade levels for quite some time. International comparisons indicate similar patterns across countries. Why might this be?
For the past decade, Dr. Deborah Van Duinen has researched boys' literacy practices in an effort to understand both what boys do with literacy on their own terms and how educators and parents might respond to boys' literacy interests and needs. Drawing from qualitative research and sociocultural perspectives of literacy, she will discuss factors that contribute to and complicate boys' lower reading scores. She'll offer practical implications from her work to equip others to better respond to boys' literate lives.
Dr. Deborah Vriend Van Duinen, associate professor of English education, joined the Hope faculty in 2011. Her research interests include boys' literacy, young adult literature and community literacy. Her work has been published in Boyhood Studies, English Journal, Journal of Adolescent and Adult Literacy and The Reading Teacher. She earned the college's 2014 Towsley Research Scholars Fellowship and received a Literacy Award from the Michigan Reading Association in 2016. She is the program director of Hope College's Big Read Lakeshore, an annual month-long community-wide reading program.

The Diary of Christina Van Raalte: Fact or Fiction? - Dr. Bill Kennedy, Nella Kennedy, Dr. Don Luidens '69 and JoHannah Smith '83
Ballroom 3, Haworth Inn and Conference Center
A diary came to light a few years ago, reportedly found by a Hope student in one of the rafters of Van Vleck Hall. The initials on the cover, "C.J. de M.," and the contents of the diary led some scholars to conclude that this was from the pen of Christina Johanna de Moen, the wife of the Rev. Albertus C. Van Raalte. The events described within accord with what is known about her life as a teenager and a young married woman. Some scholars question the diary's antiquity, however, and suggest fraudulence on the basis of meticulous investigations of ink, paper and leather. In this session, learn more about Christina Van Raalte and hear directly from the diary and from two scholars on opposing sides regarding its authenticity.
Bill Kennedy, Nella Kennedy and Don Luidens have been senior research fellows at the A. C. Van Raalte Institute since 2003, 2010 and 2016 respectively. Bill is professor emeritus of religion at Northwestern College, Orange City, Iowa, where Nella was an archivist and taught art history and occasionally Dutch. Don is professor emeritus of sociology at Hope, from which he graduated in 1969. Editorial associate and office manager at the Van Raalte Institute since 2010, JoHannah Smith is a 1983 Hope graduate.

11 a.m. -- 12:15 p.m.
Insight H2O: A Global Reconnaissance Survey - Dr. Jonathan Peterson '84
Ballrooms 1 and 2, Haworth Inn and Conference Center
Waterborne illnesses continue to be a major global health concern. Those illnesses are caused by pathogenic microbes, toxic heavy metals and constituents of herbicides, pesticides and industrial solvents. In an effort to gain a baseline characterization of untreated water sources, Hope College researchers have partnered with an outdoor products company to conduct a global water quality survey of drinking water sources from over 30 countries. This unique study is defined by an innovative method for testing in areas that had previously been untested. Its scope is far-reaching and its goal is to inform future strategies for providing clean drinking water to those in need.
Dr. Jonathan Peterson, professor of geology and environmental science, graduated from Hope College in 1984 and returned 10 years later as the first assistant professor of environmental science in the college's history. In between, he earned his Ph.D. and worked for Amoco Production Company as an exploration and development geologist, and at Amoco Oil Company as a groundwater remediation coordinator. His research focus at Hope is environmental geochemistry and hydrogeology.

I Hope You Dance: Engaging Children in the Art Form - Professor Nicole Flinn '97
Gentex Transmatic, Haworth Inn and Conference Center
Under the direction of Nicole Flinn, StrikeTime Dance Theatre is the Hope dance department's educational outreach program, serving up to 10,000 school children annually. Its mission is to educate through and expose students to the art form. StrikeTime engages, inspires, and captures the hearts and excitement for children of all ages. This session will display the ways StrikeTime provides access to dance performance through outreach and partnership opportunities with communities and schools throughout Michigan. Participants will observe the ins and outs of StrikeTime's creative process and learn about the company's most recent endeavor: connecting Hope students, community children and dancers with Haiti, creating an intergenerational and intercultural exchange. Join in the conversation to promote the transfer of learning through the discipline of dance.
Nicole Flinn, associate professor of dance, specializes in dance pedagogy, curriculum development, arts integration, assessment and advocacy. A 1997 Hope graduate, she developed a K-12 dance program and taught in Owosso Public Schools for 13 years before returning to the college in 2009. Flinn is on the board of DaCi USA and SHAPE Michigan and is an active member National Dance Education Organization and Michigan Dance Council. In 2018, she received the Touchstone Award for Dance Teacher of the Year from the MDC and Executive Director's Award for Outstanding Advocacy from the NDEO.

Got Work Stress? Creating Healthier and More Productive Workplaces - Dr. Marcus Fila
Donnelly Dining Room, Haworth Inn and Conference Center
Work stress is an ongoing process that involves an appraisal of stressors that includes the demands from the work environment as experienced by individuals and their coping response patterns used to manage that stress. Some work stress is natural and essential for effective functioning. Yes, some stress can be healthy. However, excessive work stress, resultant strains and behavioral reactions cost the U.S. economy approximately $300B annually in treatments, lost productivity and unwanted employee turnover. In this session, participants will learn about the fundamentals of work stress and strain, the concept of "resources," and how to create healthier and more productive workplaces through resource and job design interventions. Far from presenting conflicting priorities, appropriate attention to work stress promises to help individuals and organizations in tandem.
Dr. Marcus Fila, assistant professor of management, joined the Hope College Department of Economics and Business in 2013. He teaches Management Perspectives, Marketing, Non-Profit Consulting and a seminar titled "God and You at Work." Marcus' research interests are in occupational stress and health and employee turnover; with publications in Human Resource Management Review, Stress and Health, and the Journal of Business and Psychology. Prior to coming to Hope, he worked for 10 years as a business developer and executive recruiter in the U.S. and U.K.
12:30 p.m. Luncheon - Ballroom 3, Haworth Inn and Conference Center $13